Chairman's Statement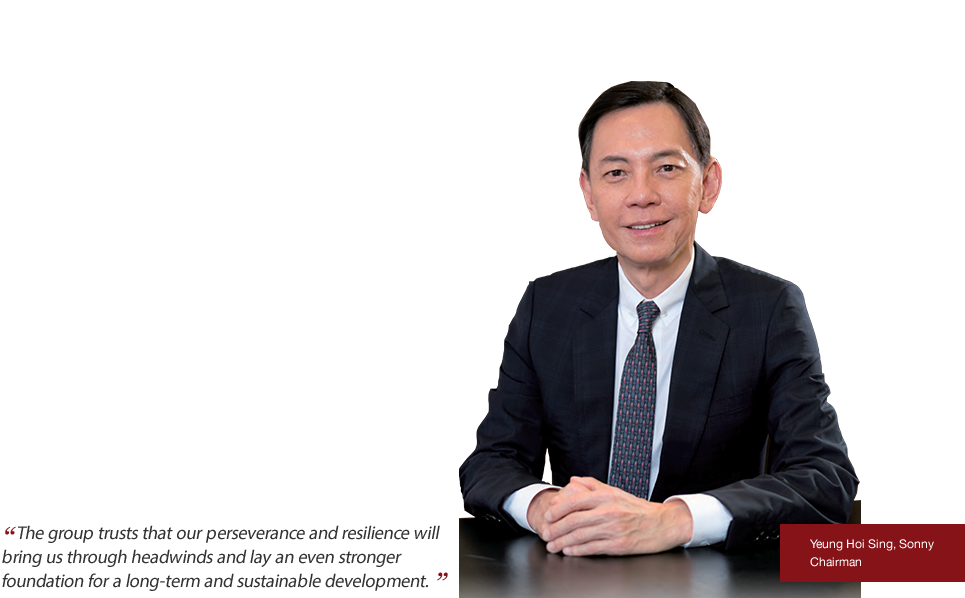 Dear Valued Shareholders,
On behalf of the board of directors of Success Universe Group Limited (the "Company", together with its subsidiaries, the "Group"), I would like to present the annual report of the Company for the year ended 31 December 2022.
2022 presented significant challenges for businesses globally. The highly contagious Omicron variant of COVID-19 triggered another wave of infections, leading to lockdowns and traffic control measures in several cities in China, including Hong Kong and Macau. The entertainment and hospitality industries in these regions were hit hard due to the suspension of major business activities and travel restrictions. The global financial markets also experienced a tough year, with geopolitical concerns and rising inflation contributing to market instability.
Despite the challenging year, we were heartened by some positive developments towards the end of 2022, including the reopening of border of China in January 2023 and the award of new 10-year gaming concessions to existing concessionaries in Macau (the "Macau New Gaming Concessions"). We believe that China's border reopening will not only accelerate its economic recovery but also boost global economic growth. Meanwhile, the Macau New Gaming Concessions will help to develop the city into a world-class international tourism destination. The Group is steadfast in its strategy of improving operational efficiency of all its businesses and optimising its product and service offerings to capture the ongoing market recovery.
LEVERAGING THE STRENGTHS TO UNLOCK OPPORTUNITIES
Over the past three years, Macau implemented strict epidemic prevention and control measures in line with the Central Government's policies, and unified all sectors of the society to safeguard its people's livelihoods. As the pandemic subsides, Macau's economic and social development is expected to gradually recover and improve. On 8 January 2023, the first day of removal of border restrictions between Mainland China and Macau, over 39,600 inbound tourists visited Macau, representing an approximately 154% increase from the average daily visitor arrivals in 2022. While the Macau government is executing facilitative measures such as electronic visas to promote Mainland China travel groups to Macau, our flagship investment project, Ponte 16, will leverage its competitive strengths in offering high-quality gaming, hospitality, and entertainment experiences to welcome tourists and guests and assist the community in restoring vitality to the tourism and local economy.
Macau continues to build a world-class tourism and leisure centre by promoting diversified development and refining the whole tourism and entertainment industries. The enactment of Law 7/2022 in June 2022, which amended Law 16/2001 "Legal Framework for Operating Games of Chance in Casinos", and the successful completion of a new round of gaming concessions bidding at the end of the year had laid a strong foundation to the long-term development of Macau gaming industry. Following the announcement of the "Master Plan of the Development of the Guangdong-Macao Intensive Cooperation Zone in Hengqin" in September 2021, Macau has been actively enhancing its infrastructure network to align with the Central Government's focus on developing the Greater Bay Area and expediting interconnectedness within Macau. It is no doubt that Macau will receive plentiful new opportunities along with its integration into China's national development plan. As a world-class integrated casino-entertainment resort and market leader in the culturally rich Inner Harbour area of Macau, Ponte 16 is poised to capture these opportunities and is committed to continually improving operations while actively cooperating with neighbouring communities to promote local tourism.
SOLID FOUNDATION FOR A NEW CHAPTER
The global tourism industry has been on track to recovery in 2022 amidst diverse challenges, including global economic uncertainty and ongoing geopolitical conflicts. According to the United Nations World Tourism Organization ("UNWTO"), the number of international tourists recorded in 2022 was doubled to over 900 million tourists as compared with 2021. The UNWTO also forecasted that international tourists could reach 80% to 95% of pre-pandemic levels for 2023, with China's border reopening would significantly boost tourism worldwide, especially in the Asia-Pacific. Jade Travel Ltd. has established trusted business relationships with a wide variety of online travel portals and agencies as well as a round-the-clock online service platform, which will continue to support its market share growth. Besides, the recent approval granted by the International Air Transport Association (IATA) to expand our ticketing business in China will serve as a new growth driver for furthering our position in being a leading travel agency in North America.
Hong Kong's ability to overcome challenges and demonstrate resilience over the past decades is a testament to its strength and potential for continued growth. The recent ease of entry restrictions for overseas travellers and the reopening of its border with Mainland China are positive developments for the city's prospects. Despite the rising interest rate, Hong Kong's property market is expected to benefit from the recovery of the global economy and the increasing demand for business and financial services. In addition to the property investment for recurring stable income, the Group is actively assessing available investment options to diversify its investment risks and hedge against inflation.
APPRECIATION
I would like to take this opportunity to express my heartfelt gratitude to our esteemed shareholders, customers and business partners for their unwavering support and trust throughout the challenging year. I am also deeply appreciative of my fellow board members for their invaluable guidance and support, and of our entire staff for their tremendous hard work and dedication. With the worst behind us, the Group will leverage its expertise and experience to capitalise on the global and industry recovery, while remaining conscientious of market changes and risks. Our ultimate aim is to create great and long-term value for our shareholders as a return to their trust and confidence in the Company.
Yeung Hoi Sing, Sonny
Chairman

Hong Kong
30 March 2023